Education and Outreach
Health education for medical professionals and patient families is a major component of our clinic's medical services. From sharing important discoveries with other medical professionals to offering health education programs to families, we're committed to creating greater understanding of rare genetic disorders and advancing patient care in our community and around the world.
Recognized as a leading international medical facility for more than 70 rare genetic disorders, our clinic is also known for groundbreaking genetic research. Our collaborations with local, national and international research partners have led to important breakthroughs and life-changing outcomes for patients with rare genetic disorders.
By sharing the knowledge we gain from our research, diagnoses and treatments with fellow physicians, we help children and families around the world. By educating patient families, we empower them with knowledge and enable them to make informed decisions. And by going out and speaking to members of our community, we raise awareness of rare genetic diseases which can impact any of us.
Educating Physicians and Researchers
Research Publications
Our patient-oriented translational research has resulted in improved diagnoses and groundbreaking treatments, bringing relief to children and their families. We communicate our findings with physicians and research scientists around the world through contributions to prestigious journals.
We've authored or co-authored more than 80 scientific papers which have appeared in peer-reviewed publications such as Science, Nature Genetics, Proceedings of the National Academy of Sciences USA (PNAS) and Cell. View selected publications.
Grand Rounds
An expert on rare genetic diseases, our clinic's medical director, Dr. Heng Wang, is regularly invited to speak about his specific cases to physicians, faculty, medical students and healthcare workers at prestigious teaching hospitals and medical centers. He has made grand rounds presentations at Cleveland Clinic (Gastrointestinal Department), University Hospitals of Cleveland, Shriner's Hospital of Erie, Pennsylvania and National Institutes of Health.
Presentations and Conferences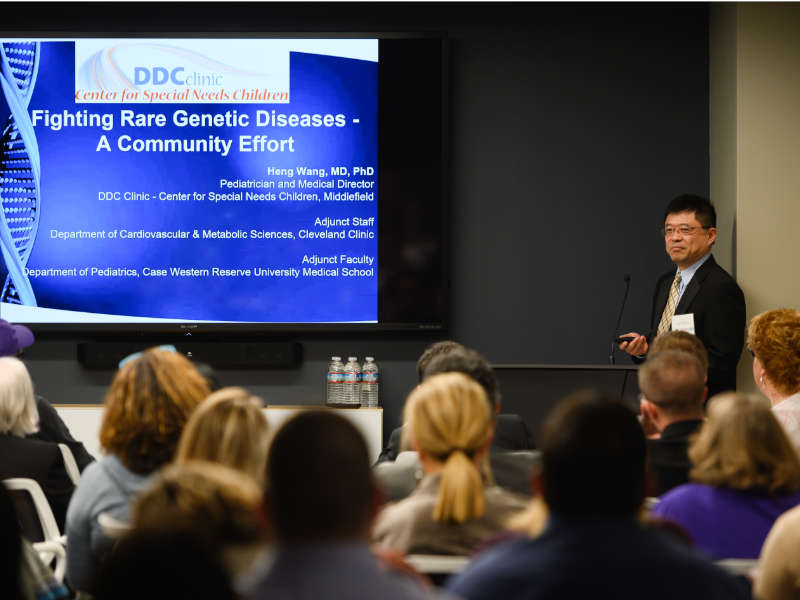 Meetings and conferences provide another avenue to share information with peer physicians and scientists. Our clinic's doctors deliver lectures and presentations in Northeast Ohio, around the nation and abroad.
Select presentations include:
Ohio Rare Disease Day
"Fighting Rare Genetic Diseases – A Community Effort"
Harrington Discovery Institute, University Hospitals
Cleveland, Ohio (2020)
American College of Medical Genetics and Genomics
Annual Clinical Genetics Meeting
Presented preliminary findings on our clinic's Amish Genetic Disease Panel (now known as Genetic Awareness Panel)
Seattle, Washington (2019)
4th Annual Conference of the Chinese Stroke Association and Tiantan International Stroke Conference
"Precision Medicine at Work – From Gene Discovery to Disease Treatment, From Amish to Chinese"
"Genetic Testing in Plain Populations: A Clinical Laboratory's Experience"
Beijing, China (2018)
6th Annual Translational Medicine in Plain Populations Conference
"SAMS Association – From Bedside to Benchside, From Gene Discovery to Novel Therapy"
University of Wisconsin
Madison, Wisconsin (2018)
University Hospitals Geauga Medical Center
"Becoming an Expert on Genetic Diseases in the Amish Community"
Chardon, Ohio (2018)
Cleveland State University
"Solving Medical Mysteries – From Rare Diseases to Common Pathways, From Gene Discovery to Novel Therapies, From Amish to Chinese"
Cleveland, Ohio (2018)
Educating Our Community
Health Education Programs
We partner with regional medical centers and organizations to bring important health education programs to families in our area. Presented by DDC Clinic staff and various guest speakers, programs focus on specific health issues impacting our Amish community.
Past programs include our hemophilia education presentation in partnership with the Northern Ohio Hemophilia Foundation and University Hospitals, and our program on Byler disease presented with Cleveland Clinic, University Hospitals and Children's Hospital of Pittsburgh.
Family Gatherings
We bring together families affected by the same rare genetic disorders to share information, learn about the latest medical findings and meet others experiencing similar challenges.
In addition, our clinic is an integral part of the Cohen Syndrome Family Gathering held every two years in Cleveland. With our expertise in managing and treating 100 cases of Cohen syndrome in our community, our clinic is an important resource for information on this rare genetic disorder affecting fewer than 1,000 people worldwide.
Community Outreach
Actively involved in our community, we regularly go outside our clinic and speak to rotary clubs, chambers of commerce, small foundations, philanthropic organizations and other associations and civic groups, educating their members about our work, Amish culture and rare genetic disorders.
Group Visits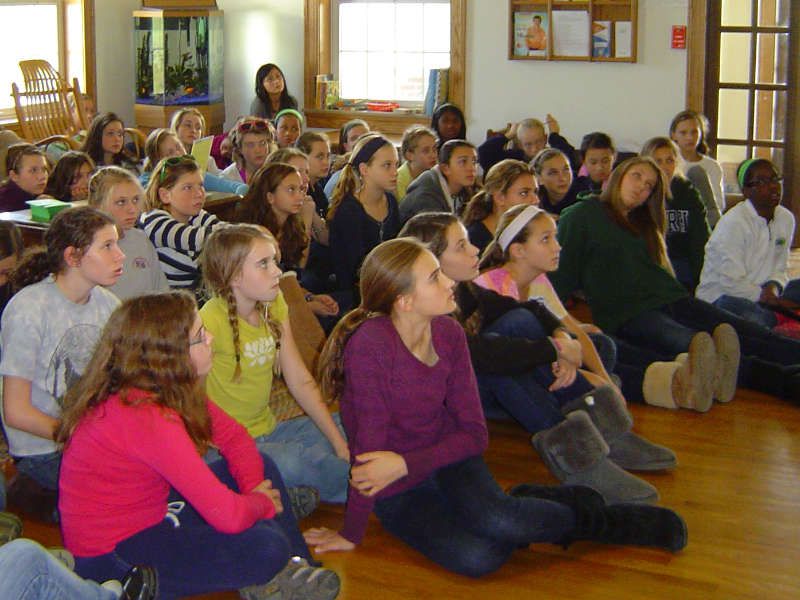 We give educational presentations and tours of our facility to business groups, nursing students, school groups and other organizations who come to learn about rare genetic diseases and discoveries made in our clinic.
Teacher In-Service Days
Our clinic hosts educational in-service days for teachers in our community, providing them with helpful information on occupational, physical and speech therapy for special needs students.
Educational Articles
We also educate our patient families and supporters through our DDC Clinic newsletter which contains informative articles exploring different rare genetic disorders and the latest updates on our clinic's ongoing research projects.
Working Together, We Can Make a Difference
Find out more about DDC Clinic.