Liam's Story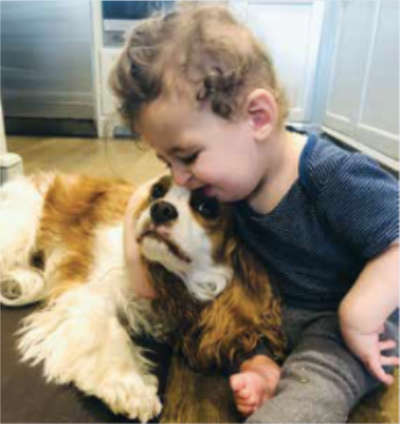 Liam's story was written by his mom, Ashley.
Our family lives in Los Angeles. Liam is our third child. He was born full-term but weighed only five pounds. He had microcephaly, hypotonia, developmental delay and difficulty gaining weight.
During his first few months of life, we saw a neurologist, otolaryngologist, gastroenterologist and a geneticist. It took months of fighting our insurance company to get approval for Whole Exome Sequencing (WES) genetic testing.
After the WES testing was done, we received Liam's Cohen syndrome diagnosis. While we have an excellent medical team in Los Angeles, none of our doctors had ever heard of Cohen syndrome. We joined a Facebook group for parents of children with Cohen syndrome, and we immediately became part of a supportive and informative international community of families affected by this rare genetic disease.
Through this group, we learned about DDC Clinic, and excitedly planned a visit to coincide with our travel to the 2020 Cohen Syndrome Association Conference in Cleveland. However, the conference was cancelled due to the COVID-19 pandemic.
While Liam was happy and thriving, we still had so many unanswered questions. We knew that Dr. Wang has seen over 100 patients with Cohen syndrome – 100 times more than our doctors in Los Angeles who include a hematologist, immunologist, endocrinologist, orthopedist and retina specialist.
Since we weren't going to Cleveland, I emailed the clinic to ask if it would be possible to set up a virtual visit with Dr. Wang. I was overjoyed when I received a warm and timely response. Within a week, DDC Clinic had set up a Zoom call with us.
Our virtual visit with Dr. Wang was the highlight of our time in isolation. His extensive knowledge of Cohen syndrome, coupled with his kindness and genuine affection for this population, led to a productive meeting that left us feeling hopeful about Liam's future.
Dr. Wang also offered practical advice on treatment options for Liam. He taught us about common issues affecting children with Cohen syndrome and provided helpful options and resources to augment Liam's mental and physical potential.
Having seen so many children with Cohen syndrome, Dr. Wang was also the only physician able to tell us whether Liam's unfortunate genetic mutation that resulted in a complete knockout of the Cohen syndrome protein would lead to a more severe developmental outcome. We were delighted to hear that it would not, as Dr. Wang has taken care of siblings with identical mutations who have had markedly different intellectual and physical capacities.
We eagerly look forward to attending the next Cohen Syndrome Association conference in Cleveland. We can't wait to meet Dr. Wang in person, and to continue to learn from his research and experience.
« To patient stories