Michael's Story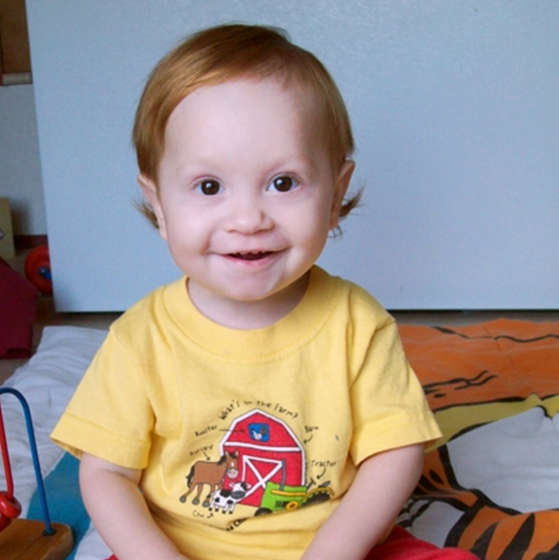 Michael's story starts before he was born and involves his grandmother, Susan, who played an important role.
For several years, Susan and her husband drove 14 hours to Cleveland to attend our clinic's annual Cohen syndrome family meeting. It was an important event for them as they had a daughter with Cohen syndrome. They never thought that one of those meetings would lead to a miracle that would save the life of their grandson, Michael, who would be born years later.
During one of our Cohen syndrome family meetings, Susan listened to a talk on hypertrophic cardiomyopathy, a heart condition which, at that time, had taken the lives of more than 20 children in our community. Susan thought of her granddaughter, Elizabeth, who passed away years ago from the same disease.
Upon returning home, Susan decided to send Elizabeth's medical records to our clinic, hoping that they might help our study of hypertrophic cardiomyopathy. As research continued, a breakthrough occurred when a mutation in the MYBPC3 gene was found to be the cause of the condition. After examining Elizabeth's medical records, Dr. Wang concluded that Elizabeth might have had the same type of hypertrophic cardiomyopathy caused by the same gene mutation that DDC Clinic's patients had.
Dr. Wang immediately shared the news with Susan and her family. This important research finding came just as the family was expecting a new grandchild, Michael. We contacted the family's doctors in Mississippi, in the hope that the new information might help the arrival of little Michael.
Several detailed level 2 ultrasounds were performed before Michael was born, but they didn't reveal anything wrong with the baby's heart. After Michael was born, he seemed like a healthy baby, and his family was relieved. However, Dr. Wang was concerned because the baby had not been tested by DNA analysis for hypertrophic cardiomyopathy.
Dr. Wang's concern became a reality when Michael became very sick when he was six months old. Experiencing severe heart failure, Michael was transferred to a children's medical center in Tennessee. After Dr. Wang learned the news, he called the cardiologist and geneticist in Tennessee, and sent them the new research finding that was published in the American Journal of Medical Genetics. He hoped the information would help Michael's physicians make a diagnosis.
Michael was diagnosed with cardiomyopathy. His condition worsened. When Michael was put on a helicopter and transferred to a children's hospital in Arkansas, Susan called Dr. Wang to tell him what had happened.
Dr. Wang contacted doctors at the children's hospital in Arkansas to share with them all that he knew about hypertrophic cardiomyopathy, its treatments and outcomes.
Michael became very sick, and it was clear that he needed a heart transplant. His doctors were racing against time. A few days after his arrival at the children's hospital, Michael had to be placed on a Berlin heart, a device used for the emergency treatment of heart failure. Miraculously, just three days after the family and the medical team decided on the heart transplant, Michael received a healthy new heart.
The heart transplant went well, and Michael had an unbelievable recovery after the surgery. Afterwards, his grateful mom said, "We're still marveling at the wonder of the miracle God gave us … It blows my mind how someone could go through something like this without the knowledge that God is there and has a plan."
« To patient stories